Copado License Manager
The Copado License Manager tab is for customers that have purchased or have been assigned multiple types of licenses (Enterprise, Change Management and/or Selenium). If only the Enterprise Edition is used (without Change Management or Selenium Testing), the functionality on this page is disabled, as no further assignments are required.
Copado Agile Delivery (CAD). This license will give you access to CCM with limited features to allow you to manage agile projects. If you already have another Copado license, Copado Agile Delivery will be included by default.
Copado License Manager manages the assignments of permissions within the Copado package. These permissions are split into our license groups: Enterprise Users, Change Management Users, Selenium Testing Users, etc.
To give users access to the Copado package, open Setup -> Apps -> Installed Packages -> Click on Manage Licenses in the Copado Deployer package -> Add the users. Once this is done, you will need to assign the users the corresponding Copado license in the Copado License Manager tab. If you don't see the Manage Licenses link in the Copado Deployer package page, you either have installed Copado in a sandbox, where all users already have access to the package, or your user doesn't have access permissions to this package, in which case you need to request your Admin to assign you the licenses. 
If this license manager is disabled, please contact Copado Support. If the license information was recently updated by Copado Support, please wait a few minutes as the synchronization can take up to 5 minutes.
Copado LIcense Manager can be accessed through the Copado License Manager tab. As of v11, you can also access the Copado License Manager from the Account Summary section.

Add /Update/Remove License Assignments
Use the lookup field to select your chosen user. There is a pick list displaying all the license types (User, Partner User, Customer Portal User). This picklist will allow you to assign Copado licenses to community users too. Once you chose one user, that user's licenses will be displayed.
Set the assignments for that user.
Click on the Add/Update User button.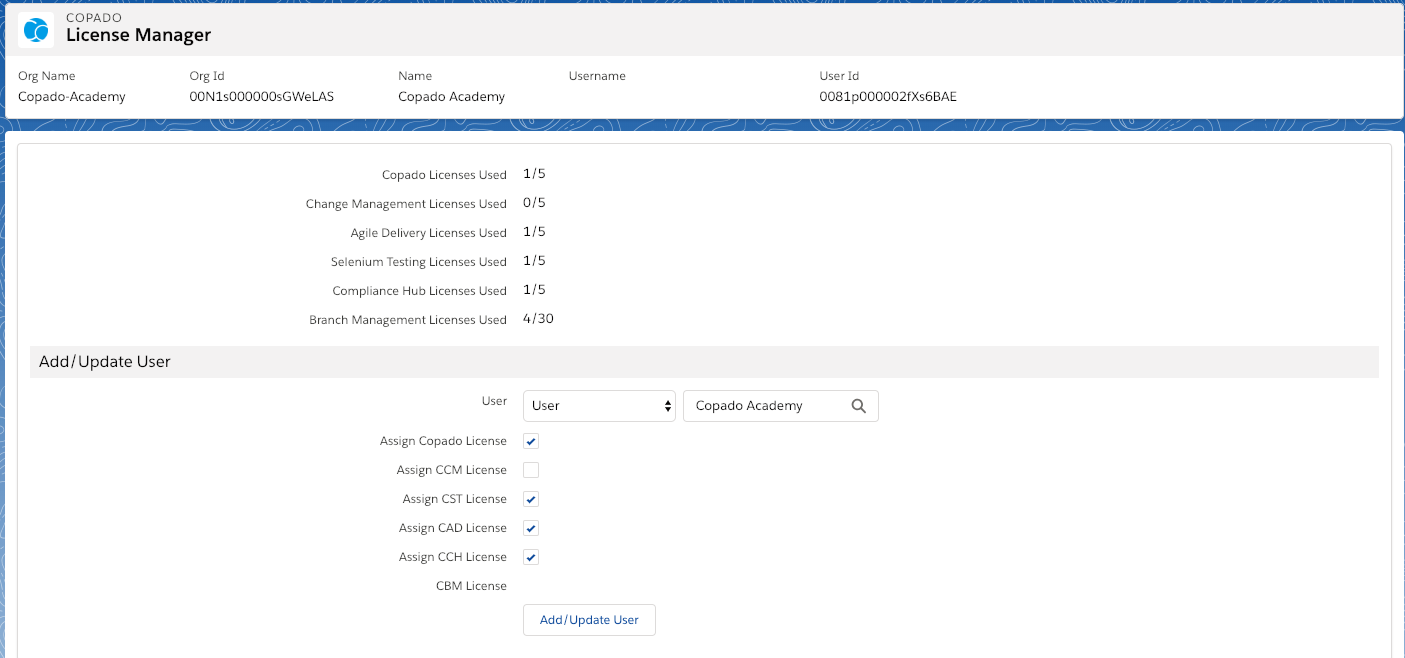 Even though Copado Branch Management licenses are not assigned from here, they are displayed along with the rest of the available licenses in this section. 
Individual user permissions may also be removed by using the Remove link.

From Copado v11, the sync button is not available anymore. Synchronizing features is done by Copado automatically.
Read next: Creating an API Key.
---
---