Creating an Unlocked Package
Creating an Unlocked Package
Open the Packages tab and click on New to create a new Package record: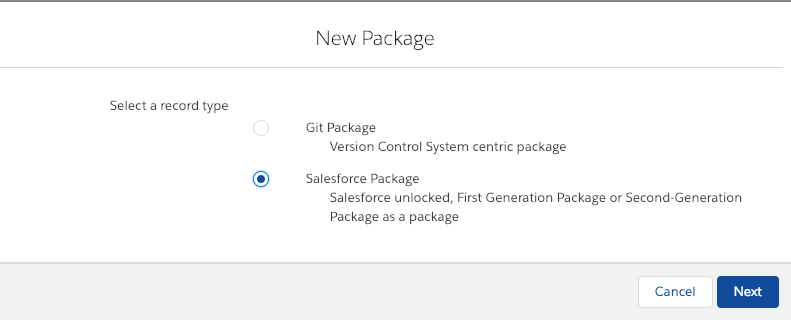 Select Salesforce Package as record type.
Fill in the required fields:



Package Name: Give your package a name. Please note that blank spaces are not allowed.
Package type: Select Unlocked.
Source Org Credential: The org credential from where the metadata of the package is going to be retrieved.
Package Repository: This is the repository where the package will be stored.

Packages can be saved in a single repository or independently in different repositories.
The metadata of each package is saved in a folder labeled with the name of the package.

Target Dev Hub Org: The org credential of the dev hub org which will be used to create and store the package and its versions.
Source Api Version: The API version the source of your package is compatible with. This field is important if you are using a metadata type that has changed in a recent Salesforce release.

Other relevant fields in the Salesforce Package record:

Package Id: Related package identifier. It is used as a package Id for package version creation and also used in the sfdx-project.json file as a package alias.
Description: Add a description for the package.
Package Namespace: This field is not required for unlocked packages.
No Namespace: Enables the creation of a package with no namespace and is available only for unlocked packages.
Sfdc Login Url: The login URL that the force:auth commands use. If this is not specified, the default will be login.salesforce.com. Override the default value if you want users to authorize to a specific Salesforce instance.

Click on Save.
Loading Metadata into an Unlocked Package
Once you have created the unlocked package, you can start loading metadata:
From the Package record, click on Manage Metadata:

You will see a metadata grid with the metadata from the selected org credential:

Select the metadata you want to include in your package. For example, you can create a Service package which classes, objects, fields, custom labels and so forth, related to cases.
Once you have selected all the necessary components, click on Save. Copado will create a new folder in the master branch of the selected Git repository and will commit the selected metadata from the source org credential.
Click on the Back button to return to the record page.
Generate a Project Definition File
A Salesforce DX Project Configuration file contains all the information needed in order to create an unlocked package.
From the Package record, click on GenerateProject Definition File. You will then see a page with a small summary of the file:

For additional information on how to create a beta version of your unlocked package and promote it to release, please refer to the article Versioning an Unlocked Package.
---
---